Detta är en sida där ett antal rollspelskampanjer med tillhörande infomation kommer att samlas. Offentlig information kommer finnas här och dold information kommer finnas i forumet.
Hemsidan är starkt inspirerad av sidan Kampanj med spelgruppen Nero. Besök gärna dem och deras fantastiska sida: http://kampanj.ripperdoc.net/ Stort tack till er för inspirationerna!
Om författaren.
John A. Jonsson heter jag, en nörd född 1984 i Gävle, men som senare sökt sin längre och längre norrut och sedan några år tillbaka i Härnösand. Inledde min rollspelskarriär med Dungeons and Dragons, för att senare upptäcka Drakar och Demoner, Call of Cthulhu samt World of Darkness. Har genom åren spellett och spelat många olika rollspel. Allt från western, till sci.fi och fantasy.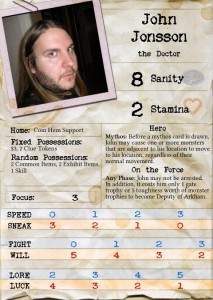 Allt material på denna sida ägs av sina respektive ägare. Inga anspråk på copyrightmateral förkommer.
All material on the page property of prespective owner. No claims to copyright intended.