Sommaren 1998 förändrades allt för CSI-agenten Charles Hernandez och hans närmaste kollegor. FBI Special Agenten Philip Stern, god vän till Hernandez avrättas på öppen gata i New York efter ett möte med den mystiske Stephen Alzis. Efter sig lämnar Stern en skokartong full med hemligheter. Ju mer Hernandez och hans kollegor gräver, ju mer fruktansvärda saker upptäcker de. Ockultister som under Andra världskriget stred på nazisternas sida, konspirationer inom den Amerikanska regeringen med rötterna från mellankrigstiden och uråldriga skuggor från det förflutna. De finner en hemsida som räknar ner, till synes till världens undergång, det antågande milleniumskiftet..
Spelad : 2007-
Delta Green: Emerald Shards är en gigantisk skräckkampanj i Call of Cthulhu, närmare bestämt Delta Green som spelats sedan våren 2007. Den handlar i grunden om agenten Charles Hernandez, som är den enda karaktär som varit med sedan kampanjens början. Närmare 20 olika karaktärer/spelare har varit med i kampanjen hitills.
Sedan början har många olika äventyr spelats, både egenskrivna och publicerade, såsom Last Rites, A Resection of Time och flertalet från The Stars are Right! I nuläget så är även Our ladies of Sorrow påbörjad.
En liten men viktig detalj är den ökända Skokartongen, en riktig skokartong, fylld med handouts och mythostexter som spelarna får använda ibland för att finna ledtrådar. Denna har fyllts på succesivt under hela kampanjen med nya hemskheter.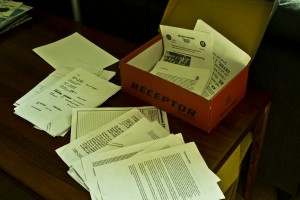 ———————————————————————————————————————————————————————–
 Lite musik som använts