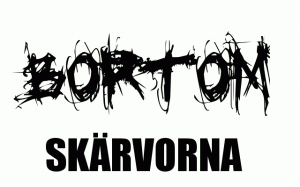 Does wisdom perhaps appear on the earth as a raven which is inspired by the smell of carrion?  Friedrich Nietzsche
En grupp osannolika individer dras in i en uråldig jakt på svaret på ett ännu äldre gåta, dold långt in i det mänskliga psyket. Jakten är oförlåtande och insatserna inte bara livet, utan även själen.
En grupp anställda på storföretaget Duncan Wilburs i Clarksville bevittnar efterdyningarna av en vid första anblick slumpartad olycka på arbetsplatsen. Samtidigt kommer en grupp agenter från organisationen Faith till staden i vad som först verkar vara ett orelaterat uppdrag. Men när båda grupperna kommer över varsin ledtråd till gåtan så vävs deras öden samman på ett sätt de aldrig kunde tro.
Bortom: Skärvorna är en kampanj i Bortom som centrerar sig runt staden Clarksville i Iowa. Kampanjen presnterar staden Clarksville, storföretaget Duncan Wilburs och några lokala kändisar. Mycket fokus kommer att ligga på mänskliga öden och hur de förvrids av det övernaturliga som förstör deras vardag.